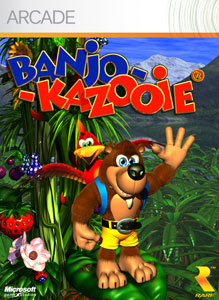 Game Title: Banjo-Kazooie
Platform: Xbox 360
Release Date: November, 2008
Genre: First-Person Shooters
ESRB Rating: Everybody
Game Description
Edit
Banjo-Kazooie is a remake of the Nintendo 64 game made by Rareware in 1998. When Microsoft bought Rare, the Banjo-Kazooie series was ported on XBox Live Arcade.
The game plot begins in the lair of the evil witch Gruntilda. She've just known a little bear named Tooty is more beautil than Gruntilda. Then she kidnappes Tooty, and her brother Banjo and the friend Kazooie have to pass trhough several worlds before get Gruntilda and save Tooty.
Xbox 360 Achievements
Edit
Total Achievements: 12
Total Value: 200
| Image | Name | Description | Value |
| --- | --- | --- | --- |
| | Get Jiggy | It doesn't matter which two, just successfully collect any two Jiggies. | 10G |
| | Mumbo Jumbo | Get yourself transformed by Mumbo Jumbo for the first time. Now that's magic! | 10G |
| | Knock Out Nipper | Come out on top in a dust-up with Nipper the crab. Watch out, he's called Nipper for a reason.! | 15G |
| | Free Clanker | Liberate Clanker, Gruntilda's rusty and recalcitrant garbage grinder. | 15G |
| | Chomp Chomp! | They're red and no less than 30 of them need chomping. Nuff said. | 15G |
| | Move Master | Discover and master all Banjo's moves… and Kazooie's… but nobody else's. Unless you insist. | 15G |
Ad blocker interference detected!
Wikia is a free-to-use site that makes money from advertising. We have a modified experience for viewers using ad blockers

Wikia is not accessible if you've made further modifications. Remove the custom ad blocker rule(s) and the page will load as expected.