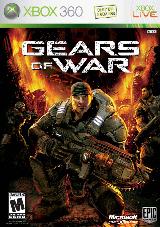 Game Title: Gears of War
Platform: Xbox 360, PC
Release Date: November 7, 2006 (Xbox 360), November 6, 2007 (PC)
Genre: Other Shooters
ESRB Rating: Mature
Game Description
Edit
With over 30 Game of the Year awards and more than 5 million copies sold, Gears of War is one of the most popular and critically-reviewed Xbox 360 games of all time.
Gears of War thrusts you into a deep and harrowing story of humankind's epic battle for survival against the Locust Horde, a nightmarish race of creatures that surface from the bowels of the planet. Gears of War unites the latest technology with classic, emotional storytelling and a revolutionary tactical combat system, engrossing the gamer in a horrifying larger-than-life story of war and survival.
Achievement Walkthrough
Edit

None - Please write in an Achievement Guide for us!

Xbox 360 Achievements
Edit
Total Achievements: 57
Total Value: 1250
Ad blocker interference detected!
Wikia is a free-to-use site that makes money from advertising. We have a modified experience for viewers using ad blockers

Wikia is not accessible if you've made further modifications. Remove the custom ad blocker rule(s) and the page will load as expected.