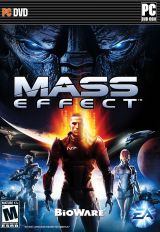 Game Title: Mass Effect
Platform: Xbox 360, PC
Release Date: November 20, 2007 (Xbox 360), May 28, 2008 (PC)
Genre: Role-Playing
ESRB Rating: Mature
Game Description
Edit
Mass Effect is a sci-fi action RPG created by BioWare, the commercially and critically acclaimed developer of Jade Empire and Star Wars: Knights of the Old Republic. Mass Effect delivers an immersive, story-driven experience coupled with awe-inspiring visuals.
As one of the first human beings to step onto the galactic stage, you face a grave threat that may destroy all of civilization. Your job is complicated by the fact that no one believes that there is any threat at all. Travel across an expansive universe, exploring the uncharted corners of the galaxy, searching for pieces of the truth in order to discover how to defeat the coming destruction.
Achievement Walkthrough
Edit

None - Please write in an Achievement Guide for us!
Xbox 360 Achievements
Edit
Total Achievements: 49
Total Value: 1200
Ad blocker interference detected!
Wikia is a free-to-use site that makes money from advertising. We have a modified experience for viewers using ad blockers

Wikia is not accessible if you've made further modifications. Remove the custom ad blocker rule(s) and the page will load as expected.