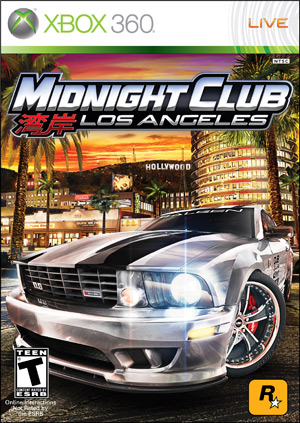 Game Title: Midnight Club Los Angeles
Platform: Xbox 360
Release Date: October 20, 2008
Genre: Racing
ESRB Rating: Teen
Game Description
Edit
The fifth game in the Midnight Club series, Midnight Club: Los Angeles brings the popular simulation racer to next-generation consoles for the first time. Developed by Rockstar Games, developers of the Grand Theft Auto series, it is packed with an incredible selection of muscle cars, tuners, exotics, motorcycles, luxury cars and an incredible selection of after-market performance parts and custom kits. Enter the ultimate world of Illegal street racing with no track, no load times, no rules: Welcome back to the Midnight Club.
Achievement Walkthrough
Edit
Some of Midnight Club LA's achievements can be achieved by completing the story, but many are achieved unintentionally during races.
Xbox 360 Achievements
Edit
Total Achievements: 55
Total Value: 1250
Ad blocker interference detected!
Wikia is a free-to-use site that makes money from advertising. We have a modified experience for viewers using ad blockers

Wikia is not accessible if you've made further modifications. Remove the custom ad blocker rule(s) and the page will load as expected.